1972 TRIUMPH STAG CONVERTIBLE 'New Arrival'
Fully Sorted, Excellent example of Triumphs V8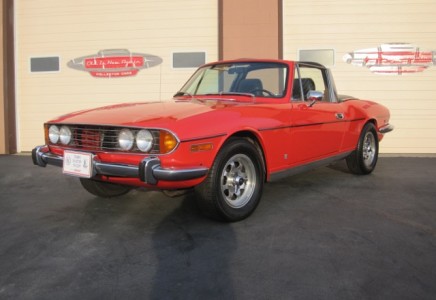 An excellent example of a very well sorted Triumph Stag Convertible
Vehicle Details:

- An exceptional well maintained  corrosion free example
- 3.0 litre V8 with  Four speed manual trans and elec. over drive
- Excellent previous refinish in factory correct and original Pimento Red

- British Heritage Cert. indicates North American Export LHD from new

- Sold new at British Leyland Motor Group Houston Texas
- After Texas spent a number of years in sunny Florida

- Excellent Black bucket seat interior, T Bar pads

- Brand New Black Hartz Cloth convertible top

- Comes with original  color keyed removeable hard top

- Mechanically fully sorted including cooling system,brakes, suspension and ignition

- Includes larger capacity Aluminum radiator, eletronic ignition,

- Excellent alloy wheels with new Toyo performance tires,

- Stainless dual exhaust produce and excellent sound both at idle and under power

- Incredibly solid, corrosion free example, including undercarriage, floor pans,
- Front and rear shock towers, trunk all are factory original paint with no signs of any repair or issue,its a great one !
Previous owner is a fastidious  Car collector who is not settled until his cars are fully sorted
All the works been done here, ready for turn key worry free driving on this great Triumph Stag

Excellent looking, running, driving and handling example
This is an exceptional example of Triumphs only V8 Example. Properly refinished  in its factory original color of Pimento Red with an excellent black Bucket seat interior. A recently and professionally replaced high quality Black Hartz cloth convertible top, also comes with the original removable hardtop, finished in Pimento Red. This 3.0 liter V8 equipped with 4 seed manual  transmission with electric overdrive has been fully sorted mechanically by its last fastidious owner. A passionate multi car collect who is not happy until all his examples are mechanically up to top standards. This Triumph is no exception with upgraded cooling system including an oversized aluminum radiator, 16″ electric cooling fan, new temp speed controller, pertronix electronic ignition , brakes fully serviced and, new CV shafts hubs and bearings, and all suspension parts serviced as needed. This resulting in an excellent running an driving, extremely fun example that could easily endure a 'jump in and drive across country' road trip.
These cars were prone to heavy corrosion issues in there 8 year stint.  This example clearly having a gifted life, starting out in Houston Texas and making its way to Florida. In this respect a very original car that is corrosion free within all the usual suspect areas. Excellent original untouched and corrosion free undercarriage includeing floor pans, support beams etc. Both front and rear shock towers are in original factory paint with no corrosion issues whats so ever.
This is defintley a much better then average example of a fairly scarce Triumph that has seen growing  interest and enthusiasm over the last number of years. An extremely fun car, this example offers it all.  A great look, ample power, excellent handling, tons of fun, top down as well as hardtop options and fully prepared and ready for enjoyment.
Don't miss this opportunity, please do not hesitate to give us a call to discuss this excellent example
Please email or call with any further questions or inquires
mike@oldisnewagain.ca
519 746 3669 @ the Office
519 573 3669 on the cell
Canadian Residents, Price + Applicable Taxes + Licensing