1947 Cadillac Series 62 Convertible Coupe
ABSOLUTE PERFECTION, AACA SENIOR FIRST, CCCA PREMIER SHOW WINNER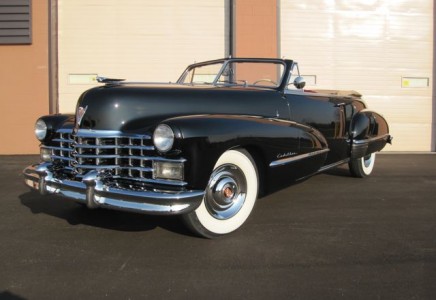 Offering an exceptional Post War Cadillac Convertible with show quality high dollar restoration, boating accolades from both the  AACA, Antique Automobile Club of America as well as the CCCA,  Clasic Car Club of America .
The 1947 Cadillac still offered the all well known 'bullet proof' Flat head V8 150 bhp, 346 cu. in. , Hydra-Matic automatic transmission, independent front coil spring suspension with rear semi-elliptic leaf springs and four-wheel hydraulic power assisted drum brakes. Wheelbase: 129″
For Cadillac, the Series 62 was a highly successful model. Styling was modern, with clean lines and a strong Cadillac identity. Interiors were well-appointed, offering the latest features and luxurious broadcloth or leather upholstery. Mechanically, the cars featured Cadillac's well-proven 346-cubic inch V-8. Strong, quiet and reliable, these engines accounted in large part for Cadillac's exemplary reputation.
The first postwar Cadillacs appeared in late 1945 and were virtually identical to those manufactured before the onset of war. Buyers had very little choice as to what they wanted, as the demand was so high that companies like Cadillac produced only single versions of a model. For 1947, nearly 90 percent of the cars sold were equipped with the smart new Hydra-Matic automatic transmission, just as the example offered here. While the new cars were about $200 more than the previous year's models, they adopted subtle styling cues like the sombrero wheel covers and additional badges and scripts.
Offered from the collection of a long-standing Cadillac enthusiast and collector, this 1947 Convertible has a very sporty and sleek presence. It is finished in black with  correct a red leather interior and tan top—a superb color combination.
The flathead V-8 with its automatic transmission, comfortable interior and convertible top make this Series 62 Convertible Coupe simply a delight to drive. Yet it is the ease of operation, enduring good looks and astute engineering that make this Cadillac the ideal car for touring. And touring with the sanctioned Classic car clubs as The Classic Car Club of America recognizes the Series 62 Cadillac models of 1940-1948 as Full Classics, and their excellent driving manners, performance and comfort make them very enjoyable touring cars today. Ready for showing or touring alike, this remarkable example will make a wonderful addition to any collection of the most significant and stylish postwar American automobiles.
This example was restored by then Owner and renowned Classic car collector Noel Thompson. The restoration was completed by award winning restoration shop Stone Barn of New Jersey. Mr Thompson choose the best available solid corrosion free low mileage example he could locate and instructed Stone Barn to deliver an award winning 1947 Cadillac. After spectacular work and  very reflective cost the end result was this spectacular 62 Series 1947 Cadillac Convertible. The car was campaigned at many national meets throughout the US and received great accolades and is a known car among Cadillac circles as one of the finest '47 Cadillac's on the planet. The car boasts the both an AACA National First Badge as well as CCCA Premier award both recognize the car for what it is, simply spectacular. Mr Thomspon owned the car for a number of years, once sold it passed through a number of top shelf collections as it was known as on of the finest, Ralph Marano of New Jeresy owned the car as well as Arlene Christianson of Burlington as well as the late Jim Miller of Baden Ontario, all known collectors of the finest examples of blue chip investment grade automobiles.
The last owner also enjoyed the car on the show circuit as well as on the tour circuit. In his four year ownership he added 5000 careful miles to this fine example. Participating in CCCA sanctioned tours. Before touring the car he being extremly fastidious both with his cars ascetically but equally as important was the mechanics of the Cadillac. Always striving for perfection the car has been fully serviced including a complete engine rebuild and fresh detail completed by RM restorations. All hydraulics and shocks have been rebuilt as well  fuel and cooling  system freshened and updated.  The car is both a winner on the show field today as well as on the open roads.
The Tuxedo black finish is deep and rich with exceptional reflection throughout. The panel fit is as good as one would see on any post war Cadillac, 'Lexus Quality' fit and finish. Chrome and stainless is all in exceptional show quality condition and shows off so well against the mirror black finish. The interior is restored back correctly back to original finished in Blood Red modeled leather interior by Jenkins. Door panels and trim in tan bed-ford cord authentic as was when new. The identifiable black painted dash for the post war Cadillac as well as perfect full Cadillac sombrero chrome wheel covers. Fresh and fully detailed engine and engine bay and trunk is fully and correctly carpeted and trimmed complete with all jack and accessories.
This is truly one of the Best of the Best examples of a 1947 Cadillac Series 62 Convertible coupe. And unlike many this car is both a looker and a doer, eager to please the new owner on the show field as well as on CARavan. Seldom is a restored car able to perform both tasks as well as this example.
Vehicle Details:

Antique Car Club of America National First
Classic Car Club of America Premier Award
Show winning Stone Barn Restoration
Recognized as a Full Classic
Tour prepared and proven
Renowned Cadillac Flat head V8

Exceptional body fit and finish

Correct and perfect interior
Mechanically sorted
This is an exceptional example that started out life as a great original It has been restored properly and correctly and debugged, ready to be used and enjoy.
Done well enough to show and place at any National events or concours, but yet still a useable driveable very reliable tour car.
Ontario Residents, Price + HST + Licensing