1948 CHRYSLER TOWN & COUNTRY CONVERTIBLE
FRESH SHOW WINNING RESTORATION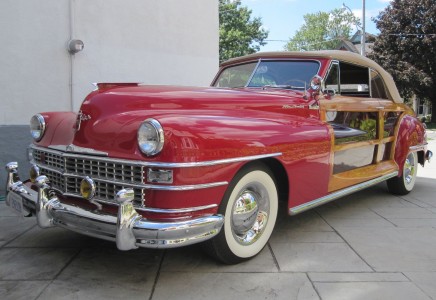 In late 1945, the end of World War II brought with it an unprecedented demand for new cars from returning G.I.s and the buying public in general. As America's various automobile manufacturers struggled to simultaneously meet this huge demand and revert from wartime to civilian production, complete model changeovers were delayed by necessity for several years, with the new-for-1946 models largely based on the existing designs of the early 1940s, prior to America's full-scale involvement in the war.
Chrysler's Town & Country, however, remains one of the single most beloved and highly collectible automobiles of the immediate pre- and post-war era. Originally conceived in 1939 by Dave Wallace and released for sale in 1941, the Town & Country was available in barrelback Station Wagon form, featuring a beautifully crafted wooden body. Although the "woodie" was born of a practical need for relatively inexpensive estate wagons, its ash and mahogany-framed body was reminiscent of the classic wooden boats of the era, it was also considered quite fashionable, and due to its association with country life, the Town & Country quickly became a favorite vehicle of the wealthy.
This outstanding 1948 Town & Country Convertible is a recipient of a recently completed total frame off three + year restoration.   Completed by noted restorer Doug Grier of Coburg Ontario. This fabulous show winning restoration was also assisted by master craftsman Terry Baker who was involved in the wood portion of the restoration. This T & C spent a majority of its life in North Carolina and this is clearly what helped preserve the wood of this auto. With greater then 50% of the car retaining its original wood. Virtually perfect paint refinished in a correct Chrysler T&C color of Sumac Red that is an excellent contrast to the  Arkansas White Ash framing and Honduras Mahogany paneling. The woods fit and finish is as good as any. The interior was completed in the desirable Highlander plaid , and is actually New Old Stock material discovered in the rafters of an east coast Chrysler dealership still on the roll. All of the reaming upholstery is done in high quality red leather and fitted with correct style matching carpets. The tan top is fit to perfection. Mechanically, the Town & Country is powered by a Spitfire inline eight-cylinder engine with a smooth-shifting Fluid-Drive semi-automatic transmission. Other features include dual heaters, a radio, and spotlight, as well as correct hubcaps, trim rings and brand new period style wide whitewall tires.
Despite their practical origins, woodies grew to epitomize distinguished living by virtue of their attractive bodies. This beautiful Town & Country holds true to this character and exemplifies the original Chrysler advertisement – "There's an air about this glorious convertible – a whisper of country clubs and moonlight rides – There's poise in every dashing line – a car that's at ease in any company." This expertly restored and extremely attractive 1948 Chrysler Town & Country Convertible was the recipient of the 2010 Antique And Classic Car Club of Canada best of show. This rare offering presents a great opportunity for the serious collector to acquire one of the most attractive and luxurious wood-bodied automobiles ever produced.
This is an exceptional Chrysler that has seen a show quality restoration leaving nothing untouched , truly finished to perfection. The Town & Country has always been a car that was sought after by most collectors and with the rightful change by the Classic Car Club of America accepting these as Full Classics has certainly driven the desire and interest of these cars over the last few years.

A fabulous representation that would be a center piece in any collection and would not only  certainly be a crowd pleaser  would be a Best Of….. contender at any show.

Ontario Residents, Price + HST + Licensing