1957 PONTIAC PATHFINDER SEDAN DELIVERY 'New Arrival
SUPER LOW PRODUCTION ON AN ULTRA RARE PONTIAC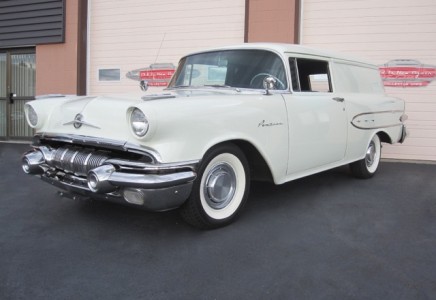 1957 Pontiac Pathfinder Sedan Delivery
Uniquely built by General Motors of Canada exclusively

Vehicle Details
Total production of Pontiac Sedan delivery's only 857, this being  unit 521 producded
Only a handful known to exists today, a very low survival rate
General Motors of Canada documentation
Sold new in Lethbridge Alberta @ Enerson motors Limited

Excellent example sympathetically restored as new
Excellent solid example with all original sheet metal

Hi quality re-finish in the factory original colour in Imperial Ivory

Excellent Chrome and Stainless is combination of show quality replate, NOS and original

Equipped with the original inline 6 Chevrolet's iron clad 260 cid, fully detailed

3 speed standard shift on the column, and uniquely equipped with Over drive

Interior restored in correct original Black/Charcoal cobblestone cloth

A extremely well detailed rear cargo compartment

An excellent running and driving example
Unlimited advertising and marketing opportunity's

A must own for the discerning Pontiac Collector
An extremely unique vehicle in that the Pontiac version of the Sedan Delivery was unique to Canada  built in Oshawa
and for the Canadian Market only, an oddity today especially to those outside of Canada, as many are unaware that such vehicle exists, as they where never in the US,, which is alot of fun !!
Another unique feature to Canadian only General Motors is there documentation, as GM of  has going back many years archived and made available for purchase documentation indicating original selling dates, Delivering dealer, options and often productions numbers.
This 1957 Pontaic Path Finder Sedan Delivery is no exception, it to has General Motors of Canada paper work. This paper work indicates that  there where only '857'  Sedan Delivery's built in 1957 and this unit being 521.It indicates its original selling dealer from Lethbridge Alberta was Enerson Motors Ltd. as well as build date, original body colour, Imperial Ivory ( still correct) interior trim code and engine size.
This is extremely low build numbers and you can imagine the survival rate on something that was built with the intention of  commercial and utilitarian use, cant be a handful left today.
This example started in Lethbridge Alberta  where it spent many years. It ended up in Ontario as a collector car a number of years ago, was sold into Florida , spent some time in the South and then made its way back to Ontario again.
The car has been refinished in its correct and factory original colours Imperial Ivory , which wears very well on this Pathfinder.
The finish is excellent, the chrome and stainless is a combo of refinished and original. The bumpers, grills and side stainless is in excellent condition.
The tail light housing ( often a problem in these cars) are exceptional (been re-plated).
The interior is correct to the GM docs, Cobble stone pattern grey and charcoal.
The rear compartment is also found in excellent condition.
What I believe to be original wood floor, that has been repainted in black is in outstanding condition.
The filler pieces found in the interior where the windows would be on station wagon are original to the car (refinished) and are excellent
The inner fender wheel wells are steel and absolutely perfect no dings dents or flaws.
The body on this cars excellent, doors and hood fit excellent and with even and clean gaps and fit.
Equipped with the original inline 6 cylinder 261 cid with 3 speed standard shift on the column and equipped with overdrive.
Showing just 50,000 miles on the odometer, un sure of the relevance today, but i believe it could very well be original mileage
Condition of all aspects, lines up with such mileage
This Pontiac starts easy, idles well, pulls strong with ample power
Drives with ease, good power and stops well, square and straight.
It is an excellent highway car and especially with the unique feature of overdrive at highway speed in high gear the engine is barely working.
This is an excellent example of a very unique vehicle built for Canadian market only with very low original production and even lower attrition rate today, found in exceptional condition.
A rare and unique vehicle, unlimited possibility of advertising and marketing with this Sedan Delivery
Ideal for a corporate or company vehicle as well as at home in any discerning Collection.
 
Do not hesitate to call or email with further details and inquires
519 573 3669 Mike  or mike@oldisnewagain.ca

Ontario Residents, Price + HST + Licensing