1965 CADILLAC DEVILLE CONVERTIBLE
OUTSTANDING SURVIVOUR 34,054 MILES INCREDIBLY 100% ORIGINAL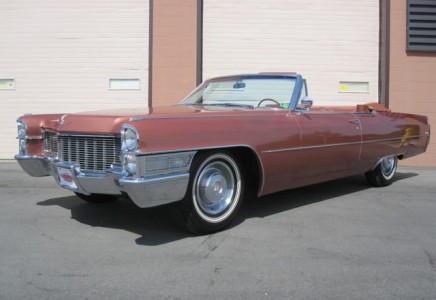 This Cadillac is the epitome of 'Survivor' with only 34,054 careful original miles and completely original.
Outstanding orig condition including the ultra rare and highly desirable  Factory original finish in Samoan Bronze with the upgraded Russet leather interior entirely un touched as well.
At its introduction September 15, 1964, Cadillac proclaimed the 1965 model "represents the most extensive change in the division's 62-year history." Cadillac was then the second oldest brand in American cars. Since elimination of Oldsmobile from the General Motors line up, Cadillac is the oldest U. S. marque.
Boasting 340hp, 429 cid. overhead-valve Cadillac V8 engine, Turbo Hydra-Matic automatic transmission, four-wheel coil springs and shocks, and a powerful presence with a Wheelbase of 129.5
This incredible time capsule spent its life in Pennsylvania and was purchased by a foremost collector from the elder brother of the original owner as an estate sale. Clearly recognized as a special car even when it was new with exceptional care and amazing low original miles. Being a 48 year young Classic and having only traveled 34000 miles since new that would equate to 708 miles per year.
From the exterior this car is show stopper finished in the Cadillac only color of Samoan Bronze, the finish is 100 % factory original. This would likely be one of the rarest colors produced and today one of the most desirable and sought after. What sets this car off so distinctly with the all original white convertible top in the down and cruise position is the complementing all original Russet  interior. Cadillac has always been on top of luxury and design with there interiors and this example is no exception. With padded fold down center console this highly detailed and outstanding all original Leather  Interior is found in near new condition still offering soft supple leather. All interior brite work is highly detailed and is found in incredibly condition. Original carpets, dash and door panels are also finished in matching russet. As mentioned the power convertible top is factory finished in white and powers both up and down perfectly and closed fits tight as a drum and retains a perfect original rear glass window. The factory original top boot is new and I do honestly believe that I may have been the first person to ever fit the boot to the car. Given the condition of the top and the incredibly kept leather interior I do not believe this car was often subjected to the UV's of the 60′s and 70′s likely garage coveted and fair weather use only.
All stainless work and all chrome plating is entirely original on this Cadillac All shows very well. All wheel opening moldings and stainless upper and mid-driff body side moldings are high shine and bruise and nik free. Great detail to both the front grill and rear valances.
To further support this vehicles upmost care and low mileage this Cadillac still retains its factory original BF Goodrich Silver Town triple line White Wall tires, yes original and serviceable tires!!  And an outstanding look with the long ago obsolete sleek look of the triple white walls. The newly offered for 1965 the brushed and polished full wheel disc with Cadillacs identifiable Wreath wrapped cloisonne a fixed. All wheel discs show exceptional with no signs of curb rash or deterioration.
The rear power trunk with auto pull down is as expected completely original with oem mat and all side material and spackled cardboard inserts found in excellent condition. The trunk also houses the original BF Good Rich Silver-town full size spare that has never been out of its mounting location , also includes the original jack wheel wrench and black wooden wheel stop wedge.
Under-hood boasts the original Cadillac Only V8 Overhead valve a 340 horsepower 429 Cubic Inch Disp. powering this cruiser. Both the engine and engine bay are also found in un-moletsed all original condition. The undercarriage of this car is found to be as exceptional as the rest of the car. Completely dry and corrosion free with no signs of ever being subject to poor storage or harmful elements.
This low mileage original performs as one would have expected from a new Cadillac in 1965. This Convertible starts easy, runs smooth and quite handles and holds the road exceptionally well, drives and stops arrow straight. To drive this carefully maintained all original low mileage Cadillac is truly a treat , and something that not all collectors have been fortunate enough to experience. As sometimes over stated 'they are only original once', well this stands true. To have  the opportunity to enjoy a low mileage  un touched original  like this unique specimen is truly  a spoiling experience.
Please look over the photos and feel free to contact me with any further questions or comments.
Vehicle Details:

-Original Un – Touched Example

-34,050 original miles

-Completely Original factory Finish

-Rare Factory color Samoan Bronze

-Outstanding all Original Leather Interior

-429 CID V8 340 Horse power
-Factory Original BF Good Rich Silvertowns
-Power Convertible Top , All Original in White

-Leather Interior

-Fender skirts

-Power Antenna

-Power windows, and seats
-Guide-matic Autronic Eye
-Power trunk release with power pull down
-Serviced and ready for the open roads
A truly iconic Model the 1965 Cadillac Convertible, and an Incredibly original presentation and Low Orig Miles. This Cadillac would stand tall as a center piece in any one collection.

Cadillac ' The Standard of the World'