1989 MERCEDES BENZ 560SL ROADSTER CONVERTIBLE
EXCEPTIONAL ALL ORIGINAL 40,2000 KM ( 24,900 MILES) 2 OWNER BEAUTY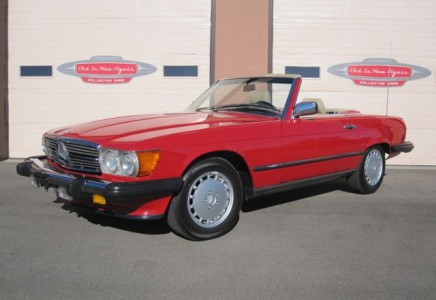 This exceptional example we owned in 2014, I sold it to a local collector who put on less then 2000 km's. In downsizing his collection, I had the opportunity to acquire the car again.
An outstanding example, sold new and serviced here in town and 3 owners from new, outstanding all original example with  only 40,400 km. less then 25,000 original miles.


Vehicle Details:

Outstanding Condition on this all Original example

Only 40,200 careful Kilometers (24,900 miles) from new

A two long term owners pampered pet

Exceptional all original factory Signal Red finish

Perfect Original 'Pebble' Leather interior

Sold new and fully serviced by same local MB dealer since 1989

Original Hartz cloth soft top
Perfect unblemished original Alloy wheels
Complete with all owners manuals, maintenance booklet,warranty books 
Car proof report indicates damage &  issue free, documents original km's
Runs and drives exceptionally well 'like a new one'
1989 Mercedes Benz 560 SL Roadster 40,400 kilometres (25,000 miles) all original Example. We are fortunate to offer yet another previously owned by us examples of a stunning all Original Mercedes Benz 560SL Roadster. Yes and believe it or not another in ours and many others favorite Colour Combo Signal Red ( all factory original finish) Medium Tan (Pebble) Leather interior also found in exceptional original condition. This few owners from new example has been carefully loved and preserved in all original condition. Sold new by our Local Mercedes Benz Dealer as well as serviced, it was originally purchased by a local builder for his wife, they dealt it back to the original selling Mercedes dealer in 2003 with only 20,590 kilometers (12,794 miles) It was then purchased again locally my a local Realtor who then gifted to his wife. I purchased from them in August 2013 with 38,055 kilometers (23,646 miles)
The car when I first owned it was as it is today, an outstanding all original example.
I sold the car in 2013 to a local collector who was then 83 years of age. He was an equal careful curator and happily put on 2000 km in his time with the 560. I recently purchased the car back from him and the car currently has 40,300 km or 25,040 miles
This example with its factory removable hardtop found in excellent original condition, as well the factory original hartz cloth top is in equally original and found in great condition. Everything works on this great example as it has been enjoyed , driven and well maintained along its journey. It is equipped with correct original MB alloy wheels that are in outstanding original condition. These wheels are wrapped in Michelin Energy MXV4 plus tires that have seen miles since installation. This example runs, very strong and exceptionally true to the road, a clearly and carefully maintained SL.
This generation of SL was a very popular for its great classic designs and today have an extreme following for low mileage all original examples such as this. This hand picked example comes complete with removable hardtop, and top rack, car cover, all books and manuals, stamped service book, top tools, Mercedes tool roll in original bag, Car Proof indicated zero issue with no accidents or claims as well verifies low original mileage. Ownership package, car proof and service books verify original mileage. This 100% original cared for absolute zero corrosion example is one for those who seek the finer things in life. Please feel free to call me to discuss any questions or details. We seek only great all original examples and have handle a number of these over the last few years, none of which seemed to last very long on our showroom floor.
This is the one to own!
We have been dealing in Antique, Classic, Vintage and specialty cars for many years. We pride ourselves in offering hand picked examples that we are proud to offer and are confident our clients will be proud to own. Our passion lies in low mileage original examples as well exceptionally well restored examples. Please take the time to view our inventory . We are located in Waterloo Ontario Canada and have many many satisfied clients in the US as well as Internationally. We ship many examples to both our neighbors to the south as well as around the world. Selling / shipping vehicles to the United States as well as Internationally is something we do regularly and have refined a seamless simple approach. Please do not hesitate to call or email with any questions or comments.
Always best to reach me on my cell 519 573 3669  Look forward to speaking with you today, Mike


Ontario Residents, Price + HST + Licensing