1935 AUBURN 851 PHAETON
EXCELLENT ORIGINAL ACD CERTIFIED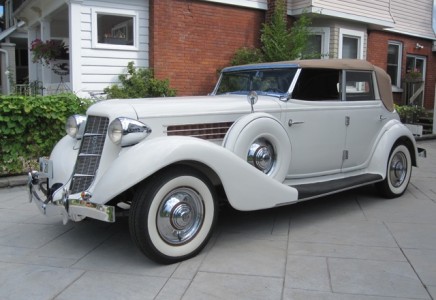 SOLD This Great Auburn has found a new home
Please know that we are always seeking and buying great Pre war Classics

If you have or are aware of great pre War Packard, Auburn, Cord, Cadillac, etc available drop us a line
or give us a call. Always Buying !!   Much Appreciated Mike 519 573 3669
For 1934, the relatively small Auburn company committed a sizable block of its capital to new tooling for a new line of modern, all-steel bodies. This massive investment in technology promised important cost savings, and although Auburn's sales increased by 50 percent over the previous year's levels, the company's financial results did not improve. Senior company management found a convenient scapegoat in Auburn stylist Al Leamy, who was replaced by a young Gordon Buehrig. With a small budget and precious little time, Buehrig retained the fine basic design of Leamy, concentrating his efforts on the grille, hood, and front fenders. The resulting Auburn models for 1935 were very well received, and today, they remain among the most desirable and sought-after pre-war American cars.
Exterior finish in Off White , still retaining much shine  and benefiting from very good body panel fit, the 1935 Auburn 851 Phaeton offered here was carefully restored a number of years ago, and remains in excellent  condition to this day. A very handsome example, it features a tan convertible top, dual side-mounted spare tires, and wide whitewall tires. The brightwork shows well throughout, from the headlights and bumpers front and rear to the flying goddess mascot and the numerous horizontal trim strips on the hood louvers. Well presented with a full set of chrome wheel covers adorn all four wheels and the two side mounted spares.
Inside, the car benefits from handsome and well-fitted brun leather upholstery, offset by darker brown carpets found in the rear passengers compartment and matching leather trimmed door panels. Highly detailed  dash mounts a pair of impressive chrome insert panels with black accents, which in turn contain a full set of attractive correct gauges as well as a clock. It should be noted that at the present time, the odometer is reported to be inoperative. The interior is nevertheless presented in excellent overall condition.
Underhood, the engine bay is nicely presented. The Lycoming eight-cylinder engine features a period correct aluminum cylinder head, as well as correct hoses, clamps and associated components. Mechanically, the car has had continued maintenance and had  completed in 2010 the CCCA CARavan Newfoundland tour with ease.  The car recently had its original radiator sent overseas and correctly reworked. The car is always an easy start, runs and drives strong and is solid and true to the road possessing excellent highway manners with strong performance and reliability  The trunk is fitted with a carpet mat.
This Auburn 851 has been fully certified as a true and authentic Auburn by the ACD Club Auburn-Cord Duesenberg. The certification papers indicate that the car was certified in 2000. It states the the car is an un altered original all steel body and clearly identifies many of the key stampings and tags that lend to the confirmation of authenticity.
Although this Auburn was restored over 30 years ago its condition and presentation show extremely well. From the underside of this vehicle is a very clean, no signs of corrosion issues with floor pans painted body color and a an older but detailed chassis. This by visual inspection is an extremely original dry solid example that was correctly restored.
Properly restored, mechanically maintained, and carefully enjoyed, this CCCA Full Classic is described by its current owner as a very enjoyable car to drive, with a comfortable ride. Very nicely presented, this fine 1935 Auburn 851 Phaeton will lend an air of sporting elegance to any event and is equally well suited for the occasional, relaxed drive with the top down.
Vehicle Details:

Certification by the Auburn Cord Duesenberg Club

correct Lycoming straight eight engine
dual ratio rear end
steel covered dual side mounts

full chrome wheel covers all six wheels
chrome headlite pots

This is an excellent example of a true Certified Auburn 851 Phaeton that has been road tested and proven.
An excellent opportunity to own one of the great Classics of the ACD series of fine automobiles

Ontario Residents, Price + HST + Licensing