1954 Chevrolet Bel Air 2 Door Coupe
24,000 ALL ORIGINAL EXAMPLE RUNS AND DRIVES PERFECT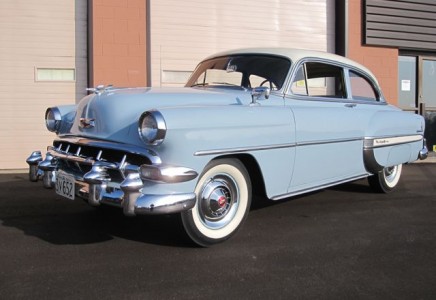 An outstanding example of well cared for Originality.
This Chevrolet Bel Air 2 door has been carefully owned and meticulously  maintained by only 4 previous owners over the last 59 years.
This Canadian built ( Oshawa Ontario Plant) Chevrolet was sold new in Toronto at HumberView  Motors a Chevrolet dealer that still exists today. The rear trunk still proudly wears the original Humberview dealer name plate.
The ownership history has been well documented  from new. The original owner had the car for only four years and after 5000 careful miles he passed the car along to the second caretaker. This gentleman was friends with the original owner and purchased the car in early 1959. He took very good care of the car with no winter driving and limited use , typically Sunday driving and dinner outings with his wife. He moved from the city to Peterborough in 1970  taking the Chevy with him. After 20 years and 10,000 fastidious miles of proud ownership he sold the car in July 1978 to an automotive enthusiast in Peterborough. The third owner was a collector who totally understood and appreciated the Chevrolet as a unique piece of history with such originality and low mileage. For the next 26 years he maintained , detailed babied and sparingly used the Bel Air . Taking it on automotive CARavans as well as showing it at regional Classic Car Club events .  After his 26 years of curating this fine example he passed on the torch to the fourth proud owner. At the time of sale , May 2004 it was documented that the car had a total of 20,708 miles from new. The fourth owner enjoyed his time with the Chev , attending many local shows within Ontario and many cruise nights. His eager attendance and the cars spectacular condition was attested by a garage wall full of awards,  trophy's and plaques  all recognizing this Low mileage original Chevrolet.
Today this Chevrolet Belair has registered only 24,210 original miles, that equates to less then 500 miles per year. Having been in the hands of enthusiast the car has always been properly maintained and used and exercised as needed to keep all things running and operating to optimum standards. To view the car in its current and original state makes you a believer in the cars history. BUT , then to drive the car only confirms its  past care and originality. This example drives incredible , starts  with ease, shifts and clutches silky smooth  and road manners of a true gentleman, equally as comfortable cruising a boulevard or at today's highway speeds. The car drives straight with no pulse or pull and brakes arrow straight was well. A true testimony of a well maintained original example
The car is finished in its factory original colours of Breton Blue over India Ivory. It was passed on that the Blue was refinished in 1970, upon inspection it is possible that it was properly refinished, today the quality of the finish is exceptional with excellent smooth coverage and great shine throughout.  The car is 100% free of any corrosion or previous repair and The car has a real honest look with great curb appeal. The chrome and stainless are a combination of Original, some replated and some NOS replacement. All and all very presentable and acceptable throughout. The stainless is all original and shows very well free of any major  prangs or dings, including the mid-drift stainless trim and sweep as well as lower rocker moldings and rear fender stone guards. Accessories include, fender skirts, stone guards, front bumperettes, rear bumper ends and guard. The interior of this Bel Air is 100% original and shows exceptionally well. The cloth seats both front and rear are all original and show very well, all original door panels and carpets. The dash , dash trim and steering wheel are all found to be excellent original. All interior chrome and stainless is perfect. The car has period correct wide white wall tires and perfect original Bel Air full wheel covers. The trunk is all original including rubber mat and spare tire and jack. The undercarriage has been corrosion inhibited in the past , upon inspection is clear to determine that there has never been any previous repair or corrosion issue whats so ever.
This Chevrolet is an exceptional vehicle with great history and careful previous ownership. A true well kept time capsule with many many years of enjoyment while still maintaining a great original low mileage Chevrolet.
A true piece of Automotive history .
Vehicle Details:

24,200 Original Miles

Exceptional finish Re painted in 1970 factory correct colours Brenton Blue / India Ivory

Excellent Original Bel Air Deluxe Interior

Original Blue Flame In Line 6 cylinder 235 cid

3 speed manual trans column shift, shifts silky smooth
Excellent Chrome and Stainless, mostly original with some re-plated

Factory, AM radio, clock and heater

Bel Air exterior trim including Fender skirts

Front Bumperettes Rear Bumper ends and guard
Stainless rocker molding, rear fender stone guards, gas door trim and kleenex dispenser

Original Chevrolet full wheel discs, correct width white wall
Truly Runs and drives fabulously
Ontario Residents, Price + HST + Licensing